September 2010, Volume 4, Number 9
A publication of the University of Utah Center on Aging
News and Events


CoA Joins the Eldercare Workforce Alliance on DC's Capitol Hill
Center on Aging faculty Mark Supiano, Marilyn Luptak, and Cherie Brunker were invited to participate with the Eldercare Workforce Alliance in Washington, D.C. September 21 to encourage lawmakers' support and investment of increasing appropriations for education and training in the rapidly expanding field of geriatric health care.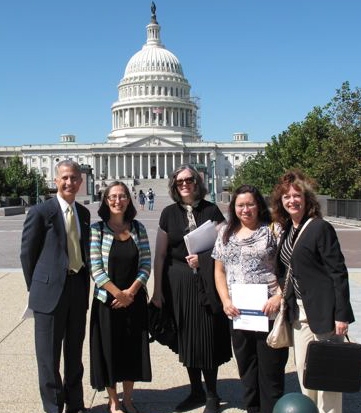 The CoA team, including Nanci McLesky, a board-certified gerontological nurse at the U of U and vice-president of the National Gerontological Nursing Association, and Romona Knell, a CNA from Brighton Gardens Nursing Home, met with congressional representatives to discuss the critical lack of those properly-trained in geriatrics care and how the implementation of the Affordable Health Care for America Act should place this issue as a priority with the "graying of America."
Programs for which the team urged support included: Geriatric academic career awards; Direct- care worker training programs; Geriatric nurse workforce development programs; Geriatric education centers; Geriatric training programs for physicians, dentists, and behavioral and mental health professionals; and Geriatric health professional loan repayment programs. The Deseret News featured a story by Lois M. Collins, click here to read. Pictured above are: Mark Supiano, Marilyn Luptak, Cherie Brunker, Romona Knell, and Nanci McLesky.
CoA Faculty & Trainees Receive Career Development Awards
Timothy Farrell, MD and Shaida Talebreza Brandon, MD have been awarded five-year Geriatric Academic Career Awards from HRSA. Their mentors are respectively, Dr. Cherie Brunker and Dr. Mark Supiano. John McDaniel, PhD, has received support for a VA Career Development Award from the Rehabilitation Research and Development Service. Joel Trinity, PhD, has received NRSA funding for his post-doctoral training fellowship. Dr. Russ Richardson serves as mentor for both Drs. McDaniel and Trinity. Congratulations to all!
Rocky Mountain Geriatrics Conference Concludes
The 8th Annual Rocky Mountain Geriatrics Conference was a resounding success, with about 200 speakers and participants in attendance. Participants enjoyed the multiple tracks and provided lots of positive feedback about our many speakers. Please save the date - September 14-16, 2011 - for next year''s conference.
Brookdale Leadership in Aging Fellowship
The Brookdale Foundation is pleased to announce the 2011 Brookdale Leadership in Aging Fellowship Program. The Fellowship, which is open to all professionals in the field of aging, was created by the Foundation to encourage emerging leaders in the field of aging. Click here for more information. Please contact Dr. Supiano, a past recipient of this fellowship, if you are interested in applying for this award.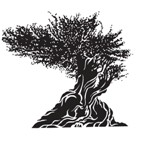 About our logo: The bristlecone pine tree (Pinus longaeva) the earth's oldest inhabitant with a life span of 4,000 years is found only in Utah and five other western states. Its extraordinary longevity and ability to adapt and survive in extremely harsh environmental conditions above 10,000 feet embodies the investigative spirit and mission of the Utah Center on Aging.
If you have questions about the University of Utah Center on Aging, please visit us online at http://aging.utah.edu 801-585-9540 or aging@hsc.utah.edu
Best,
Mark A. Supiano, MD
Executive Director - Center on Aging