March 2011 Volume 5, Number 3
A publication of the University of Utah Center on Aging
News and Events
2011 Center on Aging Research Retreat Highlights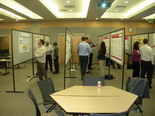 The Center's 5th annual research retreat last month was extremely well attended and received - thanks to all of you for your active participation and support.Thirty posters were presented on Tuesday afternoon, February 22nd. The trainee poster award competition was a big success. The poster judges - Drs. Carl Asche, Ken Smith and Scott Wright - were hard pressed to pick just one "best of retreat" poster. They elected to select one poster winner from two categories - basic and clinical science and social and behavioral science." We are pleased to congratulate Kaiwinui Chung-Hoon, PT, MS (see photo below at left) and colleagues for his best poster in Basic and Clinical Science award, "Can Impaired Muscle Force Steadiness Change in Older Individuals Who Have Fallen?" and Mira M. Hidajat, PhD (see photo below at right) and her mentor Dr. Zach Zimmer for her best poster in the Social and Behavioral Science category titled, "Religious Activity and Transitions in Functional Health and Mortality in Taiwan."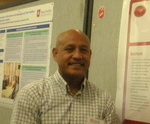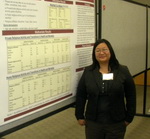 The afternoon concluded with oral presentations from each of the five recipients of last year's pilot grant awards.
The Wednesday morning February 23rd symposium format centered on Geriatric Patient-Centered Medical Home and Care Transitions, and was also well attended - in person and remotely via a web-streaming link - and highly successful. The important role for geriatric health care providers in leading person-centered, interdisciplinary teams to improve care transitions was clearly stated by both keynote speakers, Steven Counsell MD, (see photo below at left) and Robyn Golden, LCSW, (see photo below at right) who described the successful programs they have developed at Indiana University and Rush University respectively.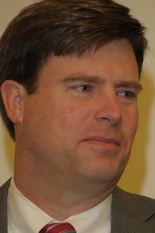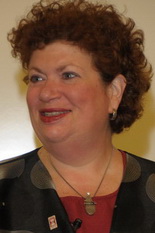 Cherie Brunker, MD from the Geriatrics Division provided an overview of the Care Management Plus program. Common themes from each of these three transitional care models include: interdisciplinary teams, a strong IT, electronic medical record infrastructure, use of standardized care protocols, and targeting services to appropriate individuals. Each program's success was highlighted by significant improvements in outcomes, including a reduced mortality rate, and cost savings. Les Lenert, MD from the SOM Departments of Internal Medicine and Biomedical Informatics concluded the presentations with an overview of new and emerging technologies designed to support care transitions and aging in place.
To view the digital video archive of the presentations and panel discussion, visit http://stream.utah.edu/m/show_grouping.php?g=552802f5e19077423 and scroll down to near the end of the listings. The presentation is in two parts.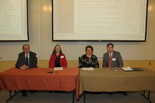 Japanese Health Policy Workshop
A workshop on Japanese Health Policy sponsored by the University of Utah Asian Center is taking place on March 28-29 at the Heritage Center. Please click here for additional details. Speakers included John Campbell, PhD, University of Michigan Professor Emeritus of Political Science who will discuss, "Japan's Universal Long-Term Care Insurance: Generous, Affordable, Workable."
Careers in Aging Week April 11-15
The Center on Aging is co-sponsoring the annual Careers in Aging Week, which is intended to bring greater awareness and visibility to the various-ranging career opportunities in aging and aging research. During the week of April 11-15, the University of Utah, College of Social Work, Interdisciplinary Gerontology Program, College of Nursing, and Center on Aging will be hosting "Careers in Aging." On April 13th, booths will be displayed in the University of Utah Student Union Building Saltair Room from aging-related agencies and organizations. If you have any questions about the University of Utah Careers in Aging Week, contact Fran Wilby, LCSW, PhD at fran.wilby@socwk.utah.edu.
About our Logo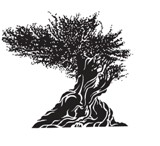 The bristlecone pine tree (Pinus longaeva) - the earth's oldest inhabitant with a life span of almost 5,000 years - is found only in Utah and five other western states. Its extraordinary longevity and ability to adapt and survive in extremely harsh environmental conditions above 10,000 feet embodies the investigative spirit and mission of the Utah Center on Aging.
---
If you have questions about the University of Utah Center on Aging, please visit us online at http://aging.utah.edu
801-585-9540 or aging@hsc.utah.edu
Best,

Mark A. Supiano, MD
Executive Director - Center on Aging