April 2015 Issue | Volume 9, Number 4
A publication of the University of Utah Center on Aging
Research Retreat In Review
This was our largest annual event to date. We enjoyed 47 Poster presentations, three Symposia teams, and over 200 guests who attended the combined two-day event.
Ken Rockwood, MD, FRCPC, FRCP from Dalhousie University, Nova Scotia (pictured below) was our distinguished keynote speaker.

POSTER AWARDS
We are pleased to congratulate our student poster winners.
Biological Category - Lauren Shih
Poster Title: "Activated Platelet Ingegrin Alpha IIB Beta3 is increased in Older Adults with Frailty But not in Healthy Aging"
Authors: Lauren Shih, Natalie Sanders DO, Steven Rondina, Andrew Weyrich PhD, McKenzie Carlisle PhD, Shaohua Men, Mark Supiano MD, Guy Zimmerman MD, Matthew Rondina MD
Pictured Below: Lauren Shih with mentors Dr. Mark Supiano, and Dr. Matt Rondina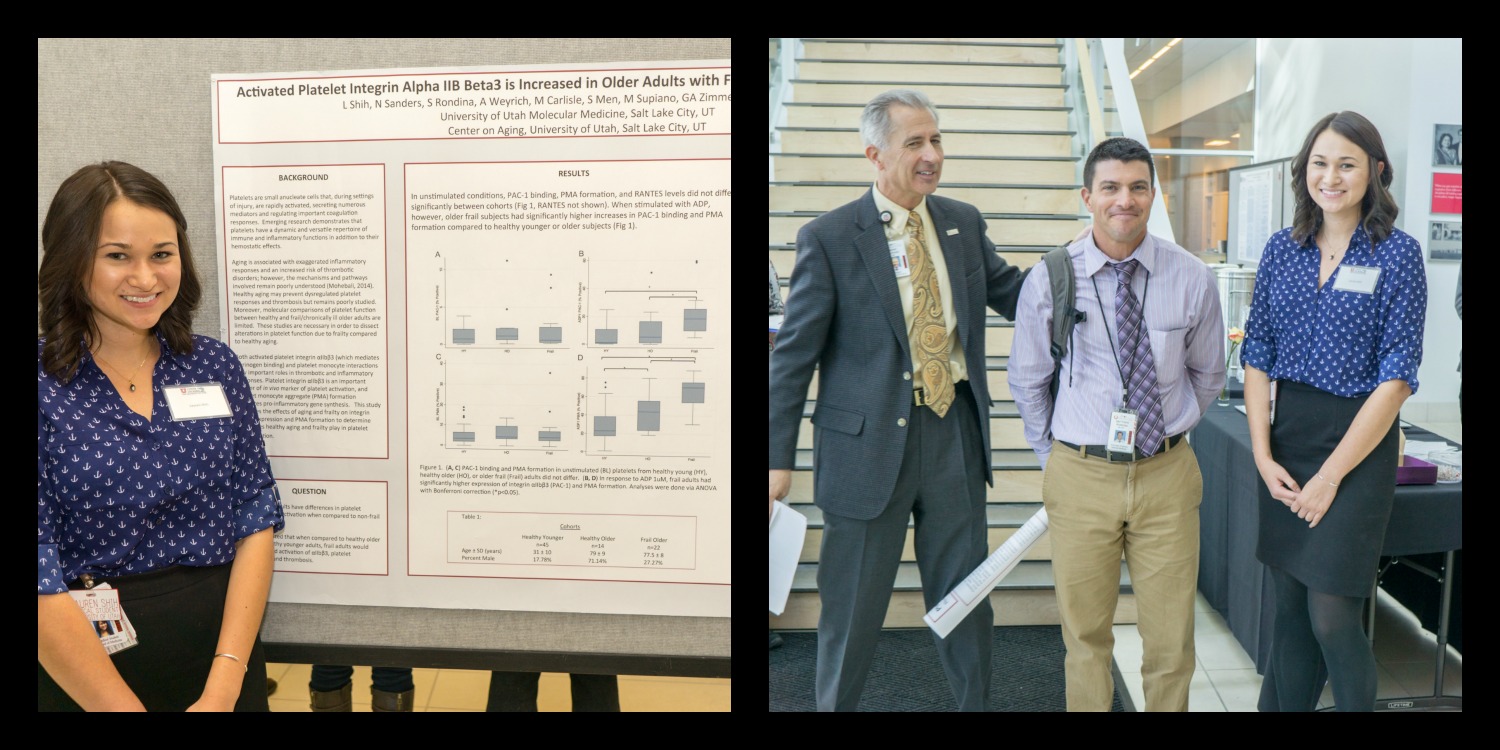 ~~~
Social Sciences Award: Shae D. Morgan
Poster Title: "Perceived emotion in clear speech by older adults with hearing loss"
Authors: Shae D. Morgan, Sarah Hargus-Fergusen
Pictured below: Shae Morgan, Dr. Sarah Hargus-Fergusen and Dr. Mark Supiano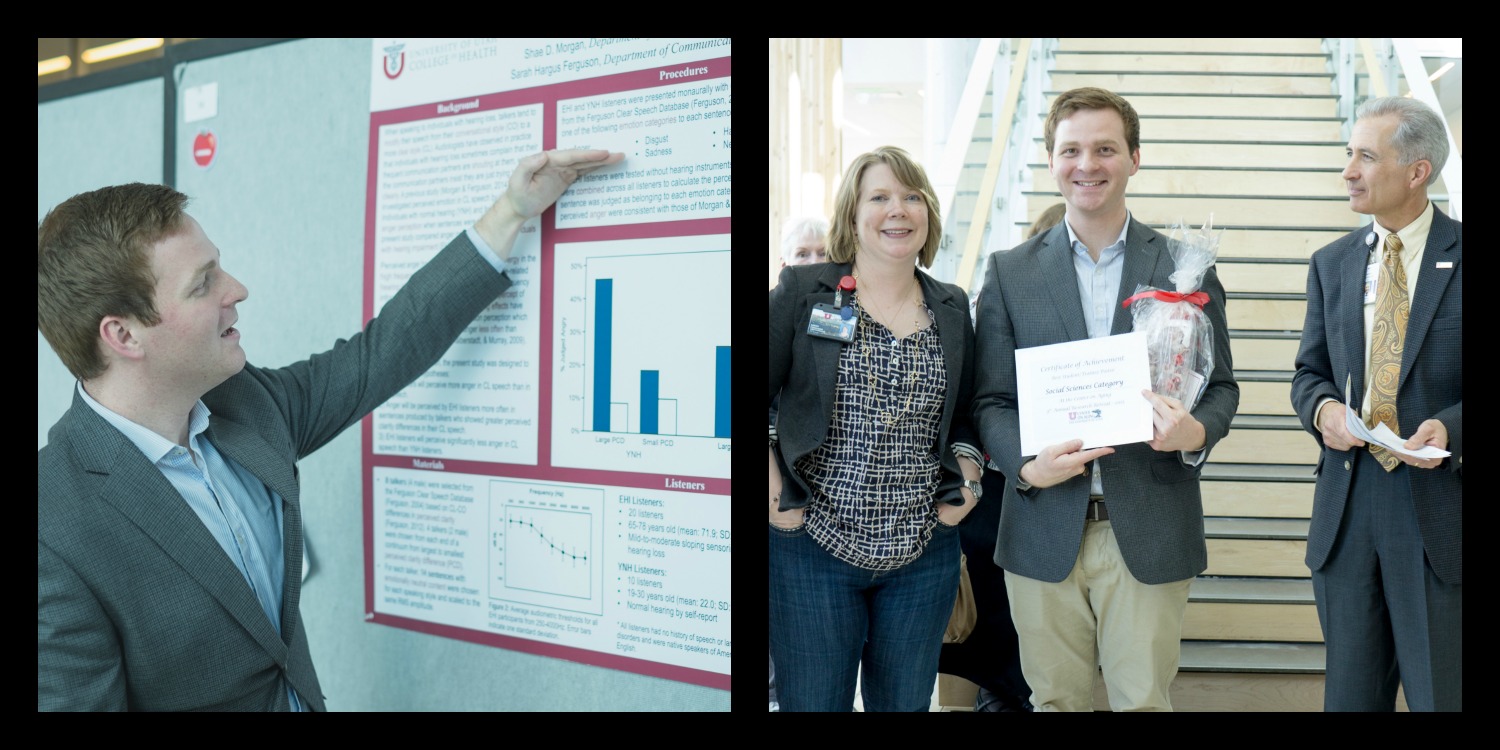 Some beautiful images from the 2015 Research Retreat are available online to view, share or download. Many poster session participants have headshots. Go To: http://uofumedicalgraphicsphotography.zenfolio.com/p401203553

(note: Use the "Hint" below the log-in box as the Password)
VIDEOS - KEYNOTE and SYMPOSIA
Videos were taken of our Keynote Lecture, and each symposia. You can access and view these videos by going to: http://www.kaltura.com/tiny/bt507

We look forward to seeing you participate next spring at our 10th Anniversary Retreat!
Geriatric Nursing Updates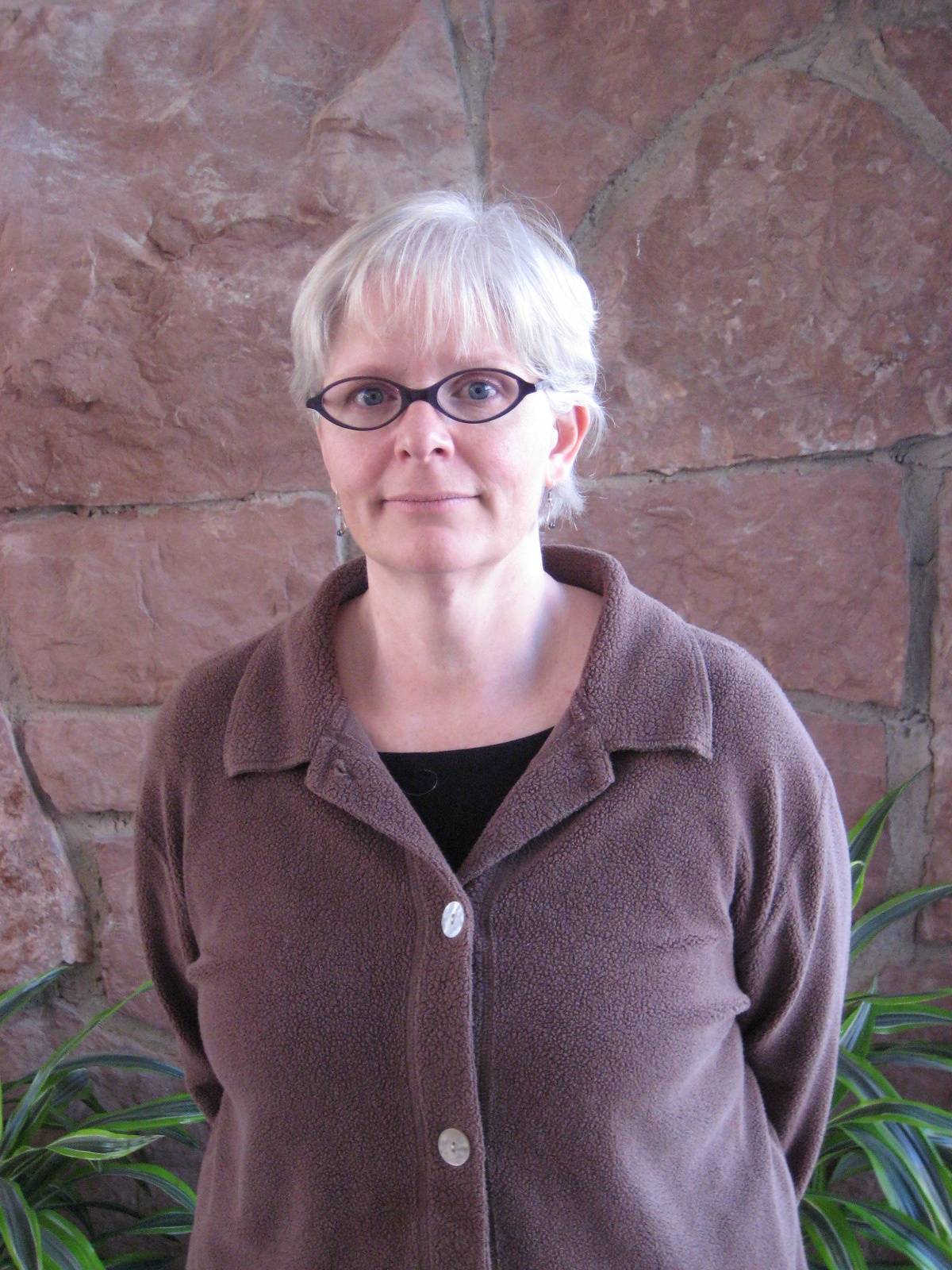 Maureen Henry, PhD student with the Hartford Center of Geriatric Nursing Excellence, has successfully defended her dissertation, titled:

Toward a New Approach to Addressing Decision-Making Needs of Older Adults Across a Range of Cognitive Function.

Maureen is a Research Scientist at the National Council on Aging.
~~~
Congratulations to the Winners of the Hartford Center of Geriatric Nursing Excellence Outstanding Poster in Aging Award, given at the 2015 Center on Aging Research Retreat.

Awards were given to the following posters:
A grounded theory exploration of frailty: The older adults' perspective. Katarina Friberg Felsted, Djin Lai, Kate Doyon, Angela Njenga, Linda Hofmann, Meghan Routt, Tracy Ruegg, & Rumei Yang.
Older Utahans Hospitalized for Ground Level Falls. Andy Rivera & Linda S. Edelman.
Triage Disparities for Traumatic Injuries in Older Adults. David Baraghoshi, David Zobell, Magen Tominey, Phoebe McNeally, Jared Butler, Janet Cortez, Raminder Nnirula & Linda Edelman.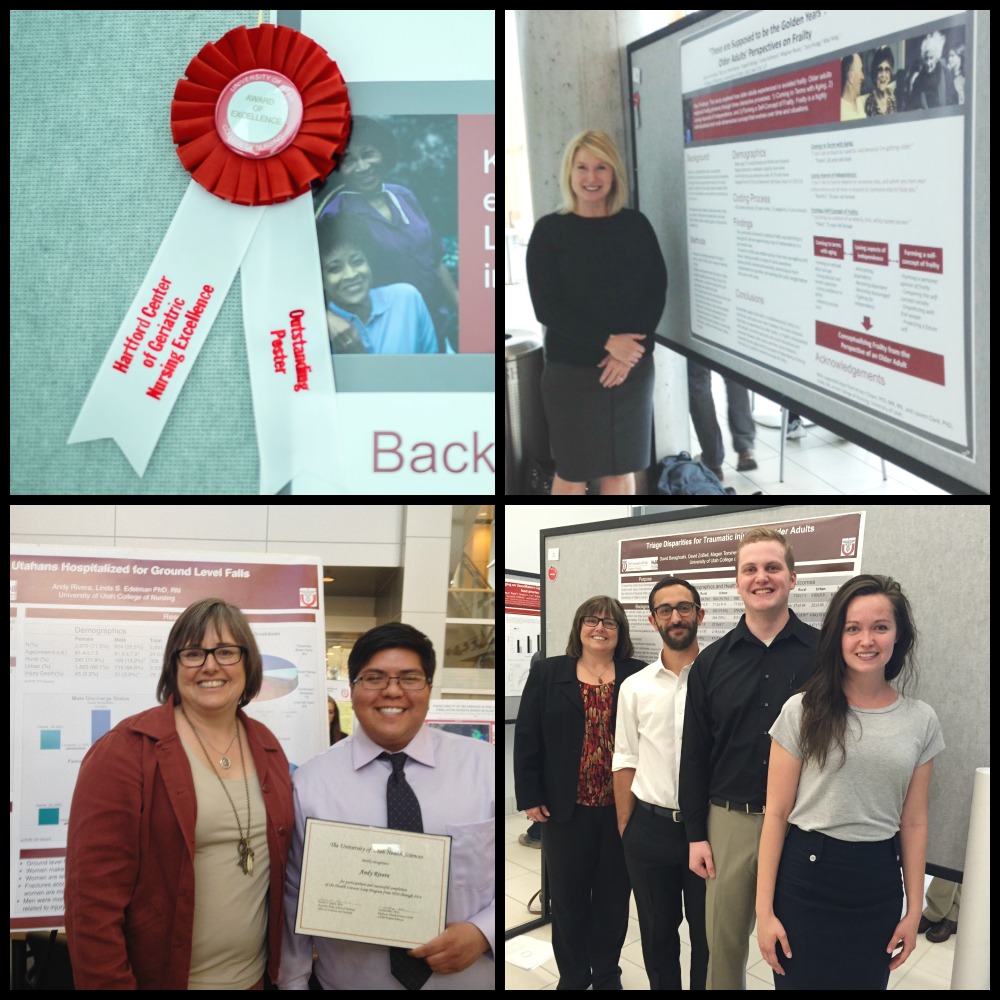 April 24 - Caring Connections Telecast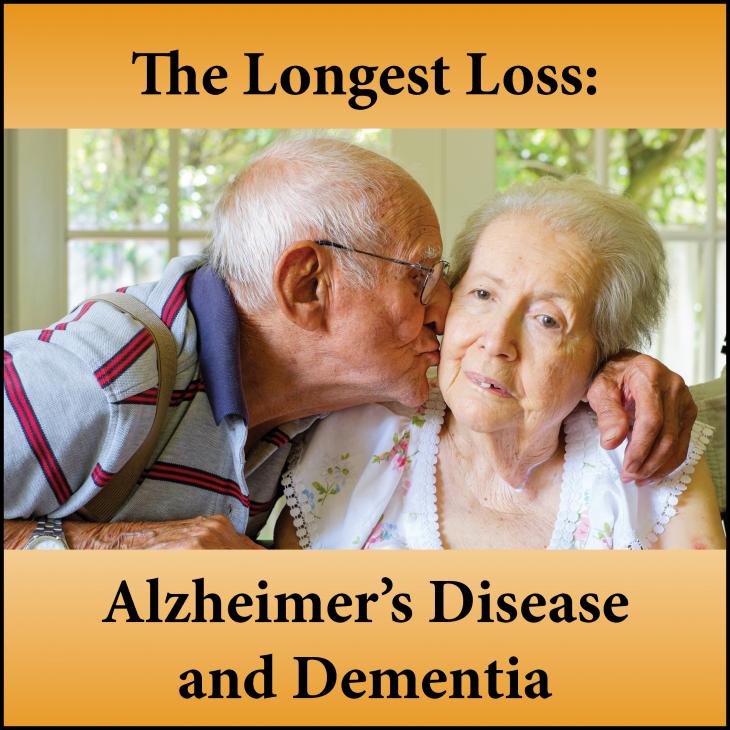 Caring Connections will again be hosting the Annual Hospice Foundation of America: Living with Grief Telecast. This year's presentation will be "The Longest Loss: Alzheimer's Disease and Dementia" the morning of Friday, April 24th at the University of Utah College of Nursing Annette Poulson Cumming Building (10 south 2000 East, Salt Lake City).

Kathie Supiano, PhD, LCSW, Director of Caring Connections: A Hope and Comfort in Grief Program will be joining Peter Rabins, Charles Corr, Nancy Pearce and Kenneth Doka on the National HFA panel. There will be no cost for registration. 3 CEUs are available. Please save the date. For more information call 801-585-9522.
Upcoming Conferences
3rd Annual Elder Abuse Conference | June 18, 2015
"Silent Victims, Silent Crimes
Viridian Event Center | West Jordan, Utah
This Conference will offer workshops and training sessions on signs of elder abuse, effective interventions, and strategies to prevent older adults from becoming victims. The Conference is primarily designed for advocates, law enforcement, legal/financial professions, health, and social work professionals. Caregivers, seniors, and interested individuals in the community at large are also welcome.

There is no charge for this Conference, but space is limited

Register at UtahElderAbuse.org
~~~

13th Annual Rocky Mountain Geriatrics Conference
"The Aging Brain: Exploring the Intersection of Behavioral and Cognitive Disorders"
August 31 - September 1, 2015
This Year's Conference Will be Held at the Snowbird Ski and Summer Resort
Complete conference information (including VHA ACES registration info) and registration is online.
Presented By: The Division of Geriatrics, University of Utah, School of Medicine
Meeting of Interest
Grand Rounds - Division of Cardiovascular Medicine
Friday, April 24 • 12:00 – 1:30 pm
Christopher J. Cooper, MD - University of Toledo
"Renal Artery Stenosis; Atherosclerosis and a bit more"
Location: HSEB 2680
NIH Grant Opportunity
The National Institute on Aging invites researchers to submit innovative R01 research grant applications on aging and the family. The objective of this research program is to expand understanding of the role of families and interpersonal relationships in the health and wellbeing of older people. Go To PA-11-128
Member Updates Requested
White you are visiting the MEMBERSHIP DIRECTORY page, please check your own profile details for accuracy. Click the link associated with your name to ensure that it is directing to the proper page with your current CV details.
Send all updates to holly.abel@utah.edu
AGING GRANT OPPORTUNITIES
NOTE: This is not necessarily a comprehensive list. Please Search for additional opportunities at Grants.nih.gov.
| Dated | Title and Link to More Information | Funding |
| --- | --- | --- |
| Expires 5/8/2015 | Family and Interpersonal Relationships in an Aging Context (R01) | PA-11-128 |
| Posted 1/5/2014 | Advancing the Science of Geriatric Palliative Care (R01) also R03 and R21 | PA-13-354 |
| Posted 1/5/2013 | Pain in Aging (R01) also R03 and R21 | PA-13-058 |
| Posted 5/5/2013 | Alcohol Use Disorders: Treatment, Services and Recovery Research (R01, also R03, R21) | PA-13-160 |
| Posted 1/5/2014 | Advancing the Science of Geriatric Palliative Care (R01) also R03 and R21 | PA-13-354 |
| Posted 4/28/2014 | Network and Infrastructure Support for Development of Interdisciplinary Aging Research (R24) | PAR-14-081 |
| Posted 5/5/2014 | Early Stage Development of Technologies in Biomedical Computing, Informatics, and Big Data Science (R01) | PA-14-155 |
| Posted 5/5/2014 | Alzheimer's Disease Pilot Clinical Trials (R01) | PAR-14-089 |
| Posted 5/5/2014 | Translational Research to Help Older Adults Maintain their Health and Independence in the Community (R01) | PA-14-161 |
| Posted 5/16/2014 | Translational Research to Help Older Adults Maintain their Health and Independence in the Community (R21) | PA-14-159 |
| Posted 5/23/2014 | Claude D. Pepper Older Americans Independence Centers (P30) | RFA-AG-15-003 |
| Posted 7/04/2014 | Research Supplements for Aging Research on Health Disparities (Admin Supp) | PA-14-256 |
| Posted 7/05/2014 | Lab to Marketplace: Tools for Brain and Behavioral Research (R43/R44) | PA-14-250 |
| Posted 8/23/2014 | Design and Development of Novel Technologies for Healthy Independent Living (R21) | PAR-14-119 |
| Posted 8/23/2014 | Technologies for Healthy Independent Living (R01) | PAR-14-118 |
---
Center on Aging Membership Directory

As a mostly virtual Center, we depend on the accuracy and timeliness of our Web presence. Center members are urged to review and update their membership directory information. Please view your information on the Center's Web site . Please send any updates or requests for changes to aging@utah.edu.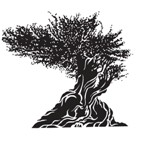 The bristlecone pine tree (Pinus longaeva) - the earth's oldest inhabitant with a life span of almost 5,000 years - is found only in Utah and five other western states. Its extraordinary longevity and ability to adapt and survive in extremely harsh environmental conditions above 10,000 feet embodies the investigative spirit and mission of the Utah Center on Aging.
---
Best,
Mark A. Supiano, MD
Executive Director - Center on Aging

For more information about the University of Utah Center on Aging, please visit us online at www.aging.utah.edu