March 2017 Issue/Volume 11, Number 03
A PUBLICATION OF THE UNIV. OF UTAH CENTER ON AGING
Center on Aging 11th Annual Research Retreat 2017
Resilient Places for an Aging Society: Adaptive Capacity Promotion for Healthy Living
April 27 - April 28, 2017
We are pleased to welcome four speakers to our 2017 Annual Research Retreat. Scott Hummell, MD (University of Michigan) - Dr. Hummell's interests seeks to clarify links between lifestyle patterns, inflammation/oxidative stress, and cardiovascular damage; James Sallis, PhD (UC-San Diego) - Dr. Sallis is a Distinguished Professor of Public Health who is perhaps the leading expert in how the environment impacts health through physical activity; Susanne Iwarsson, PhD (University of Lund) - Dr. Iwarsson is an Occupational Therapist who directs the Centre for Ageing and Supportive Environments at the Univeristy of Lund and is a leader in understanding the role the home environment and its accessibility plays in health outcomes; Amanda Lehning, PhD (University of Maryland) - Dr. Lehning's interests includes research on aging in place and aging-friendly communities.
They will be joined by four University of Utah faculty presenters: Andrew Merryweather, PhD, Assistant Professor, Department of Mechanical Engineering; Alexandra Terrill, PhD, Assistant Professor, Department of Occupational & Recreational Therapies; Neal Patwari, PhD, Associate Professor, Department of Electrical & Computer Engineering; Heather Sobko, PhD, Associate Professor, College of Nursing
Link for the Center on Aging Retreat agenda.
Research Retreat: Extended Poster Deadline!
A reminder to submit your research posters for the 2017 Research Retreat. Poster submission deadline has been extended to Friday, April 14th, 2017.

The Poster Session will be held on Thursday April 27, 2017 from 3:00 - 6:00 pm in the atrium of the James L. Sorenson Molecular Biotechnology / USTAR Building 36 South Wasatch Drive, Salt Lake City, Utah 84112. All Center on Aging members, affiliates and their trainees are encouraged to present a poster.

Download the Poster Submission Instructions PDF Here
2017 RFP Center on Aging Pilot Grants
The Center on Aging received 13 pilot grant applications from Main and Health Science Campuses.
The applications will be reviewed in two tracks: those related to Biological and Health Sciences and to Behavioral Science, Social Science and Policy. The Center's Steering Committee will complete its review in June with funding announcements expected before July 1, 2017.
The Utah Legacy of Robert L. Kane, M.D.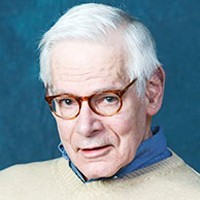 Robert Lewis Kane, M.D. died unexpectedly at the age of 77 on March 6, 2017, leaving a gaping hole in the field of aging and the countless lives he touched. Bob was at the University of Utah from 1970 to 1977 in the Department of Family and Community Medicine where he first became involved in the field of aging as director of a grant called the Nursing Home Demonstration Project. In that project he proposed and evaluated the use of geriatric nurse practitioners and clinical pharmacists in nursing home care, both very new professional roles. Healthcare for the residents in the demonstration project was provided by a University of Utah interdisciplinary team of physician, nurse practitioner, social worker, and clinical pharmacist, resulting in the JAGS article "Can nursing home care be cost effective?", his first geriatrics publication. Known for his wit and insight, he was a prolific author and innovator. His research and publications addressed the health and long-term care of older persons; the relationship between acute and chronic care; quality of care; geriatrics; and the failure of the health care system.

Together with his wife and frequent professional collaborator, Rosalie Kane, Ph.D. M.S.W., Bob attended the first Center on Aging Retreat in 2007 and gave the inaugural keynote address http://aging.utah.edu/grants/pilot/previous-retreats.php) . For the last 30 years he has been at the University of Minnesota School of Public Health as professor and Minnesota Chair in long term Care and Aging Health Policy & Management. For more information, see his professional biosketch and obituary: (http://sph.umn.edu/faculty1/expertise/aging/name/robert-kane/http://www.startribune.com/obituaries/detail/185734/?fullname=robert-lewis-kane,-md
In the News.....
Drs. Mark Supiano and Shaida Talebreza are featured in this American Geriatrics Society video created to mark its 75th anniversary: What Do You Love About Your AGS Community?
Dr. Mark Supiano is featured in a podcast with the Geriatrics and Palliative Care Blog (GeriPal): How Low Should We Go with Blood Pressure in Older Adults? He discusses his recent JAGS article that pertains to applying SPRINT Study results to older adults.
Utah Commission on Aging
The Utah legislative session wrapped a couple of weeks ago. The Commission on Aging has been reauthorized through 2027 with sustained funding. The Workforce Financial Assistance Program was also renewed and received one-time funding for $350K to continue the good work for rural and geriatric professional education support. A resolution was passed to study falls prevention educational needs. No new funding was authorized for critical programs for long-term care ombudsman and alternatives programs for supporting choice for home care. SB 88 was also passed to provide a Medicaid Housing Coordinator to help Medicaid-eligible Utahns in skilled nursing homes or other institutional settings to access housing resources and help them move back into the community. This is an important step in achieving independent living.
There are many items needing to be addressed and the Commission has formed a public policy committee to address strategy, training, and public policy education on key aging issues for our lawmakers. This new effort will culminate in a public policy forum with our legislators during our August 2017 Commission meeting.
Please take time and register for the 2nd annual End of Life Summit on Friday April 21 to be held at the Doty Education Center at the IMC in Murray (see below). You can register here. Important training for providers and families on the importance and content of end of life decision making.
Upcoming Events
End of Life Care
Sharing Your Wants and Wishes
Friday, April 21, 2017 8am - 4pm
Doty Education Center, Intermountain Medical Center Campus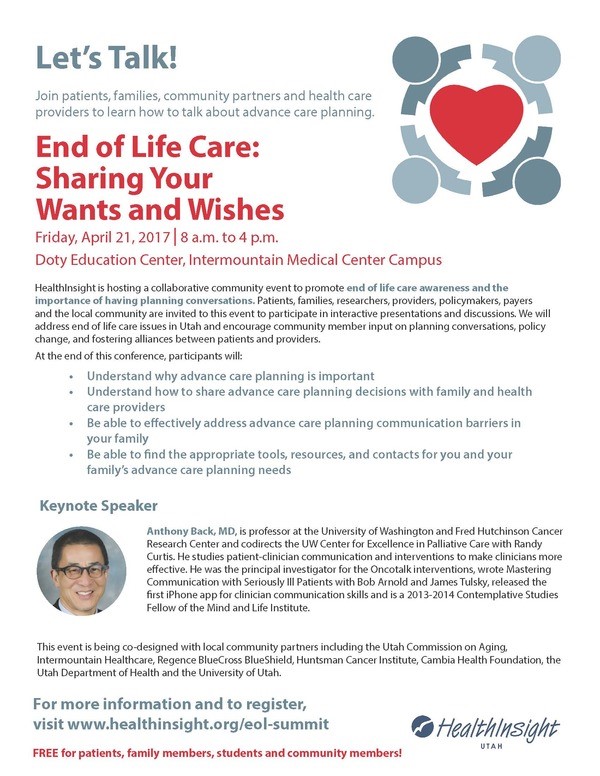 Funding Announcements

Applications now accepted for a new program:The Irene Diamond Fund/AFAR Postdoctoral Transition Awards in AgingLOI deadline: May 1, 2017
The Irene Diamond Fund/AFAR Postdoctoral Transition Awards in Aging
Who is eligible: Postdoctoral fellows (MD and/or PhD degree or equivalent) who are within three to six years of starting postdoctoral training at the start date of the award (October 1, 2017)
Research area: This program will support basic science discoveries that have the potential to translate into clinically-relevant strategies that are directly relevant to human aging and healthspan.
Amount of award: $120,000, with an additional $30,000 available to award recipients who advance to an independent junior faculty position within two years of completion of the award.
Award period: 2 years
Number of awards given: Up to 7
Letter of Intent Deadline: May 1, 2017 Please visit http://www.afar.org/research/funding/ or contact us at grants@afar.org for more information.

2017-2018 Pilot Projects Awards Nathan Shock Center for Excellence in the Basic Biology of Aging One year of support (up to $30,000 each) will be awarded for up to three Pilot research projects in the biology of aging. The Pilot Project application may either be designed to rapidly pursue a new finding or research opportunity, or to obtain preliminary data that will serve as a basis for a major research grant application. The projects should build and capitalize upon one or more of the three Research Core Services of our Center: Proteomics, Metabolomics and Invertebrate Longevity & Healthspan (see http://www.uwaging.org/shock-center/cores). Prior consultation with the Core Director(s) is strongly advised. Pilot project funds can support reagents, supplies and Center services, but not salaries. Applications from outside the University of Washington are strongly encouraged. Applicant Qualifications
Junior Faculty members are particularly encouraged to apply for Pilot Projects
Postdoctoral fellows cannot serve as Principal Investigators for pilot projects. However, they may receive support via faculty sponsors.
Support for projects to study neurodegenerative diseases is infrequently granted, due to overlap with other funding sources.
Deadlines and Award DatesAll Applications Due: April 17, 2017, by 5:00 PM Anticipated Date of Awards: July 1, 2017 Pilot Study Funding Period: July 1, 2017 – June 30, 2018
Selection of awards will be based upon scientific merit and program relevance. Application Submissions Submit the cover letter and application electronically in PDF or Word format to: Ellen Cravens, cravense@uw.edu. For more information, please contact Ellen Cravens by email or at 206-616-4135.
Member Updates/Center on Aging Membership Directory
As a mostly virtual Center, we depend on the accuracy and timeliness of our Web presence. Center members are urged to review and update their membership directory information. Please view your information on the Center's Web site. Send any updates or requests for changes to Heather at heather.podolan@hsc.utah.edu​ or aging.utah.edu.
---
About our Logo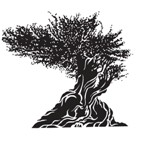 The bristlecone pine tree (Pinus longaeva) - the earth's oldest inhabitant with a life span of almost 5,000 years - is found only in Utah and five other western states. Its extraordinary longevity and ability to adapt and survive in extremely harsh environmental conditions above 10,000 feet embodies the investigative spirit and mission of the Utah Center on Aging.

---
Best,
Mark A. Supiano, MD
Executive Director - Center on Aging