May 2017 Issue/Volume 11, Number 05
A PUBLICATION OF THE UNIV. OF UTAH CENTER ON AGING
Center on Aging Research Retreat in Review
We wish to thank everyone who participated on April 27-28 making our 11th Annual Research Retreat an outstanding success! We enjoyed 28 Poster presentations, four keynote speakers, four University presentors and over 175 guests who attended the combined two-day event.
Links to the:
PRESENTATIONS and other info regarding the Aging and Resiliency Transforming Excellence Program: http://www.cap.utah.edu/resilient-places/#presentations This site will soon also have links to the storyboards (see below) and the video of the presentations.
PHOTOS -https://www.dropbox.com/sh/g09m4opa6gdupob/AADvH4BD0tjHldJkID3LsAVfa?dl=0
Keynote Speakers (pictured below with Dr. Supiano from left to right) - Amanda Lehning, PhD (University of Maryland); James Sallis, PhD (UC-San Diego);Susanne Iwarsson, PhD (University of Lund); and Scott Hummel, MD (University of Michigan)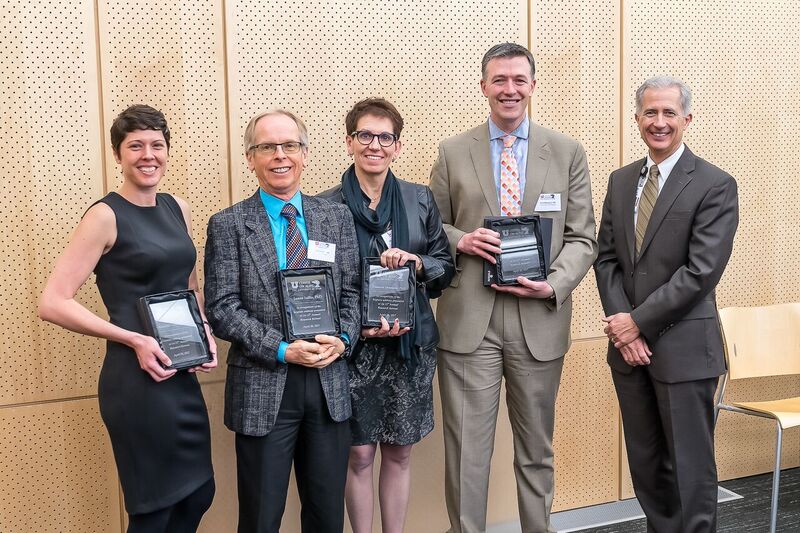 At the Retreat this year we enjoyed the graphic illustrations from Karina Mullen Branson. A Graphic Facilitator is a thought partner that specializes in helping groups understand each other and tell your story via process design, live illustrations and live videos.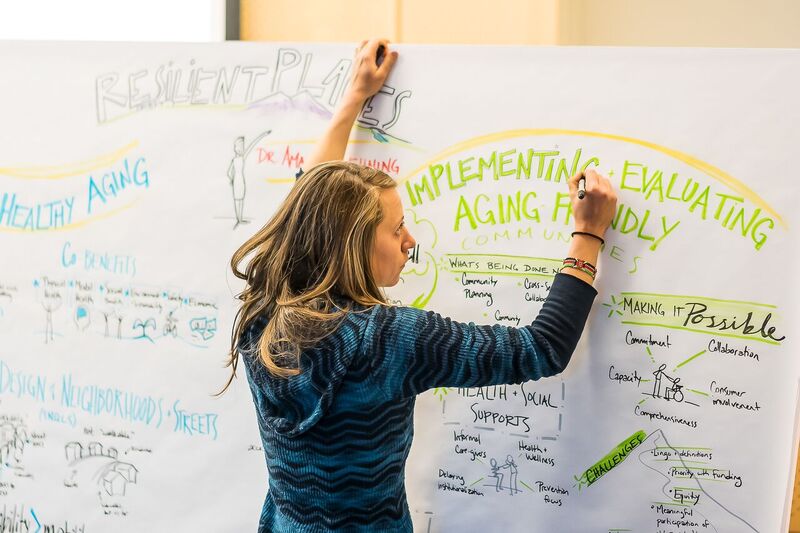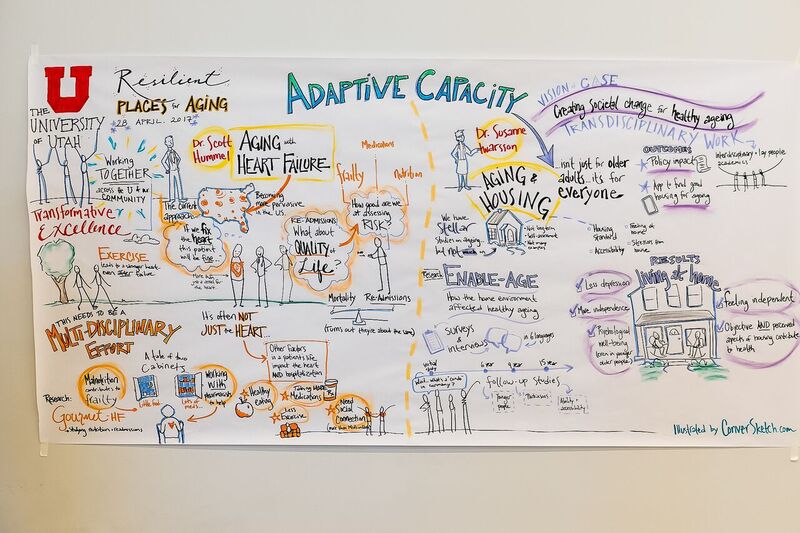 POSTER AWARDS We are pleased to congratulate our trainee poster winners:
Biological Award: Jesse Christensen
Poster Title: "Novel Feedback Technique Normalizes Gait Adnormalities during Decline Walking after Total Knee Arthroplasty"
Authors: Jesse Christensen,DPT, Paul LaStayo, PhD, PT, Robin Marcus, PhD, PT, Ryan Mizner, PhD, PT, Christopher Pelt, MD and Bo Foreman, PhD, PT
Pictured below: Jesse Christensen and Dr. Mark Supiano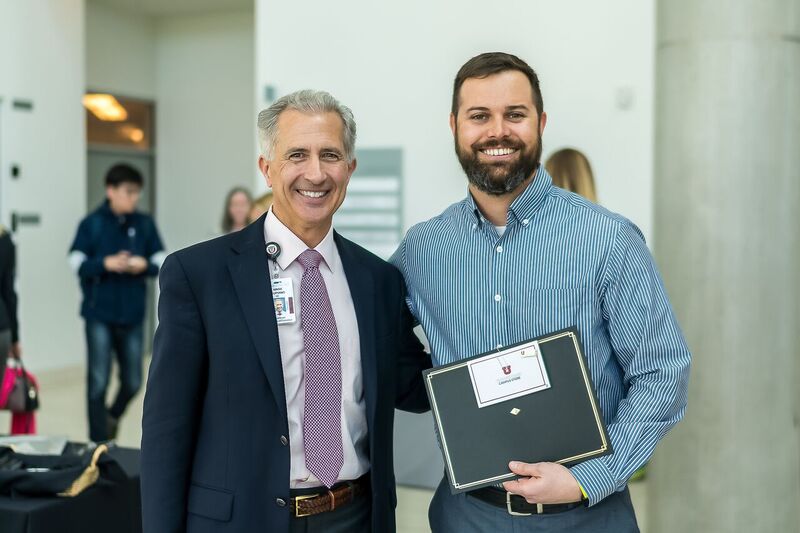 Social Sciences Award: Jen Neria
Poster Title: "Executive Functioning's Relationship to Gait Speed Among Older Adults: Does Measurement Matter?"
Authors: Jen Neria, Madison Niermeyer, Casey Barron, Ridley Heyrend, Aaron Ray, Austin Gillespie, Rosemary Ziemnik and Yana Suchy, PhD
Pictured below: Jen Neria and Dr. Mark Supiano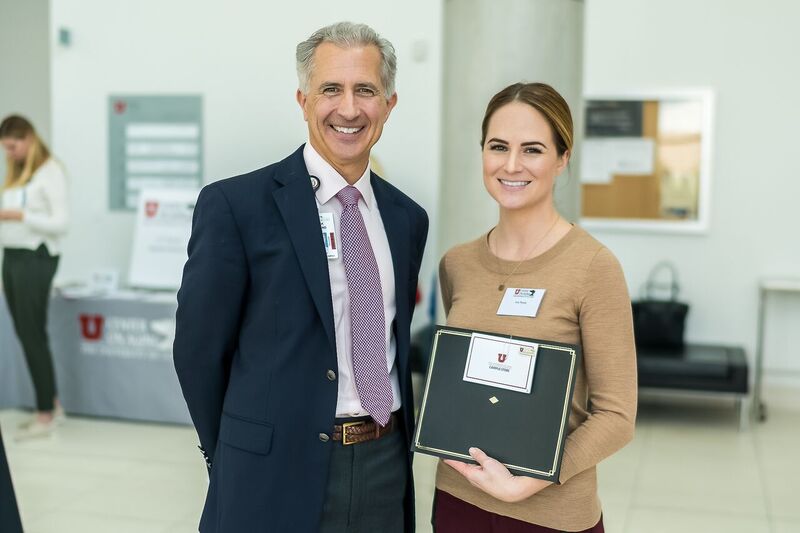 Also, a big THANK YOU to our poster reviewers - Dr. Linda Edelman and Dr. Alisyn Hansen and to Heather Podolan for handling all the retreat logistics.
We look forward to seeing you participate next Spring at our 12th Annual Retreat.
Congratulations....
Philip A. Kithas, MD will be recognized with The Leonard Tow Humanism in Medicine Award.
This honor is student nominated and selected, and presented by the Arnold P. Gold Foundation. The purpose of The Arnold P. Gold Foundation is to recognize the value of humanism in the delivery of care to patients and their families. The award honors one faculty member and one graduating student annually for exemplifying outstanding humanism in medicine along with scientific excellence. The nominating student noted: "Dr. Kithas is consistently patient, thoughtful, and kind. He exemplifies compassion while also being a remarkably diligent clinician."
Kathie Supiano, PhD, LCSW, F-GSA, FT was awarded funding from the Cambia Health Foundation for her study "Grief Support Groups for Frontier and Rural Utah: A Pilot Study to Develop and Evaluate Tele-Health Distance Technology to Provide Grief Support and Develop the Bereavement Care Professional Workforce in Utah." This grant award of $127, 659 will bring partners from Caring Connections: A Hope and Comfort in Grief Program, Community Nursing Services Hospice Services, and Utah Telehealth Network together to develop, implement, and evaluate a distance-technology delivered grief support group program for grieving persons in underserved rural/frontier communities in Utah using trained rural hospice social workers.
Kara Dassel, PhD has been accepted as a Fellow in the Gerontological Society of America. Appointment as a fellow is a recognition of outstanding contributions to the field of gerontology.
Utah Commission on Aging
The quarterly meeting UCOA was at the AARP offices in Midvale, on Thursday, May 4. Over 25 Commission members and community partners gathered to move the committee priorities forward including a new format for annual reporting to our elected officials and key topics for publishing research and policy opinion. We will also be collaborating with the U's HSC Scope program to create a series of educational podcasts.
The Commission co-sponsored a very successful End of Life Summit on April 21 that attracted over 100 attendees including professional service providers, public, and medical providers. Theme was centered around the challenge and content of needed end of life conversations with providers and families. In addition to keynote speaker Dr. Tony Back from U Washington Medical Center, we had a panel representing diverse cultures and ethnic groups and how this affects their life's planning decisions.
The Commission was pleased to participate in the Center on Aging retreat and its focus on resilient aging in the communities of tomorrow. The Utah Area Agencies on Aging also sponsored a Senior Abuse and Fraud in Rural Utah event in Cedar City on May 11.
---
Upcoming Events
AGS 2017 Annual Scientific Meeting
San Antonio, Texas
May 18-20
There are two symposia featuring CoA Members:
Thursday, 5/18 7:30 – 9:00 AM ADAPTATIONS AND OUTCOMES OF THE HOSPITAL ELDER LIFE PROGRAM: IMPLEMENTATION AND SPREAD Room: 304
Dr. Mark Supiano is presenting.
Friday, 5/19 1:00 – 2:30 PM FROM PHYSICAL EXAMINATION TO CROSS EXAMINATION: AN INTERPROFESSIONAL APPROACH TO DECISIONALLY IMPAIRED OLDER ADULTS Room: 301
Drs. Tim Farrell and Maureen Henry presenting.
University of Utah has three posters:
PRESIDENTIAL POSTER SESSION B Thursday, May 18 4:30 pm – 6:00 pm
B73 Resident Presentation
AdaptedTransitional Care Model Provides Reduction in Geriatric Admissions and Emergency Care Unit Usage
T. A. Volden, S. K. Shaffer, A. B. Anderson, J. M. Brandi, P. A. Kithas
B110
Aging-AssociatedIncreasesin Platelet Granzyme A Regulate Pro-Inflammatory Gene Synthesis by Monocytes
R. A. Campbell, A. Bhatnagar, Z. Franks, J. W. Rowley, K. Manne, M. Supiano, A. S. Weyrich, M. T. Rondina
POSTER SESSION D Friday, May 19 3:30 pm – 4:30 pm
D108 Student Presentation
The role of bed rest and exercise rehabilitation on skeletal muscle macrophage populations and insulin sensitivity in old and young subjects C. C. Lindsay, P. T. Reidy, A. I. McKenzie, R. E. Tanner, P.C. LaStayo, M. Supiano, M. J. Drummond
---
APS Conference
Cardiovascular Aging: New Frontiers and Old Friends
Wesminster, CO August 11-14, 2017
Drs. Tony Donato and Lisa Lesniewski are two of the conference planners.
Drs. Mark Supiano, Ashley Walker and Garrett Morgan are all presenting.
http://www.the-aps.org/mm/Conferences/APS-Conferences/2017-Conferences/CV-Aging/Schedule/Program-of-Symposia.html
---

15th Annual Rocky Mountain Geriatrics Conference
Getting to the Heart of Aging: An Interprofessional Approach to Cardiovascular Health
DATES: August 28-29, 2017
Registration is now available
---
Member Updates/Center on Aging Membership Directory
As a mostly virtual Center, we depend on the accuracy and timeliness of our Web presence. Center members are urged to review and update their membership directory information. Please view your information on the Center's Web site. Send any updates or requests for changes to Heather at heather.podolan@hsc.utah.edu​ or aging.utah.edu.
---
About our Logo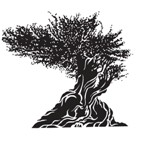 The bristlecone pine tree (Pinus longaeva) - the earth's oldest inhabitant with a life span of almost 5,000 years - is found only in Utah and five other western states. Its extraordinary longevity and ability to adapt and survive in extremely harsh environmental conditions above 10,000 feet embodies the investigative spirit and mission of the Utah Center on Aging.

---
Best,
Mark A. Supiano, MD
Executive Director - Center on Aging