September 2017 Issue/Volume 11, Number 09
A PUBLICATION OF THE UNIV. OF UTAH CENTER ON AGING
Staff Transition
Trever J. McGuire has been hired as the new Associate Director for the Division of Geriatrics. His start date was September 1st.
Trever began his career with the University of Utah in 1998 as a Customer Service Representative for the University Community Clinics. Since then, he has held positions in several departments with the University of Utah including: Hospital Billing and Finance, University of Utah Medical Group, and the Division of Emergency Medicine. Trever earned a Bachelor of Science degree in Health Promotion and Education in 2010, and went on to earn a Master of Business Administration in 2013, both from the University of Utah. His research interests include Health Policy, Health Care Economics, and Connected Health.

Blake Rose accepted a position with the Division of Gastroenterology. We would like to thank Blake for his time with Geriatrics and wish him well.
Utah Commission on Aging
The Commission held its summer quarterly meeting with nearly 40 attendees representing members and community partners. New partners from several organizations offered insights to the issues and challenges confronting their work on aging issues. Children's Service Society discussed the need to build awareness for their program which prepares grandparents raising grandchildren with skills and options for support versus having grandchildren assigned to foster homes. Funding should be established to support this program to the level of foster care subsidies. Salt Lake County Aging Services discussed the volunteer foster grandparent program and structure with a request to refer interested participants.
The Commission welcomed new partner Gardner Policy Institute which shared recent aging demographic information and will collaborate with our research and academia team. The falls prevention workgroup has been developing common materials for statewide use and presented a case study with SLC EMT responders on their efforts to educate a local assisted living facility and its residents on fall prevention practices. The Utah Nursing Consortium presented data on provider shortages in the nursing programs throughout the state and the strategy for public policy support. The Utah Geriatric Education Center discussed the online program to encourage individuals to certify in gerontology studies.
Other updates included the Utah courts WINGS program for guardianship stakeholders and the Elder Justice Innovation grant used to review and reform guardianship rules, educate judges, and protect against the neglect and exploitation of vulnerable adults. The advanced care planning committee continues to make progress on the accessibility and sharing of POLST documentation and is working on public and provider education modules.
Finally updates on the work of the Alzheimer's council and funding requests being shaped for several aging issue efforts for the upcoming legislature.
---
Upcoming Events
University of Utah Department of Psychiatry Grand Rounds
Donovan Maust, MD, MS University of Michigan
"Understanding the Drivers of Potentially Inappropriate Medicare Care for Patients with Dementia"
Wednesday, October 18, 2017
University Neuropsychiatric Institute
12pm - 1pm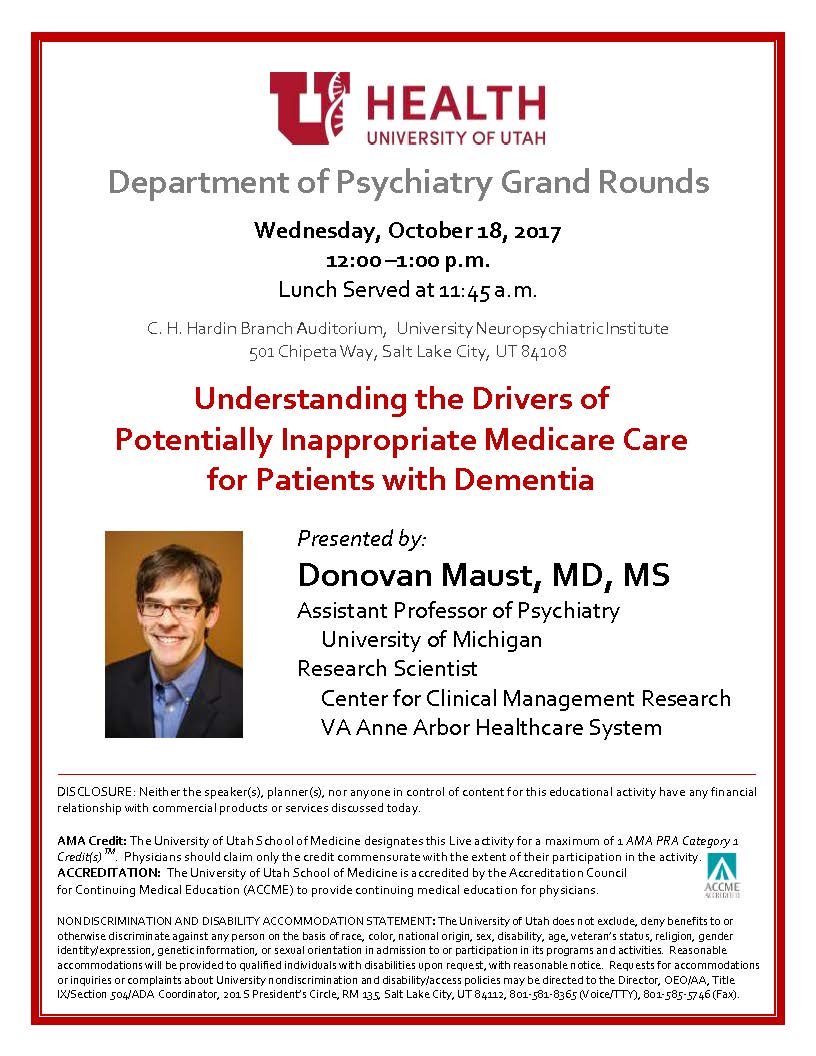 ---

15th Annual Rocky Mountain Geriatrics Conference
Getting to the Heart of Aging: An Interprofessional Approach to Cardiovascular Health
DATES: August 28-29, 2017
Program Information: http://uofumedicine.org/rmgc
Registration is now available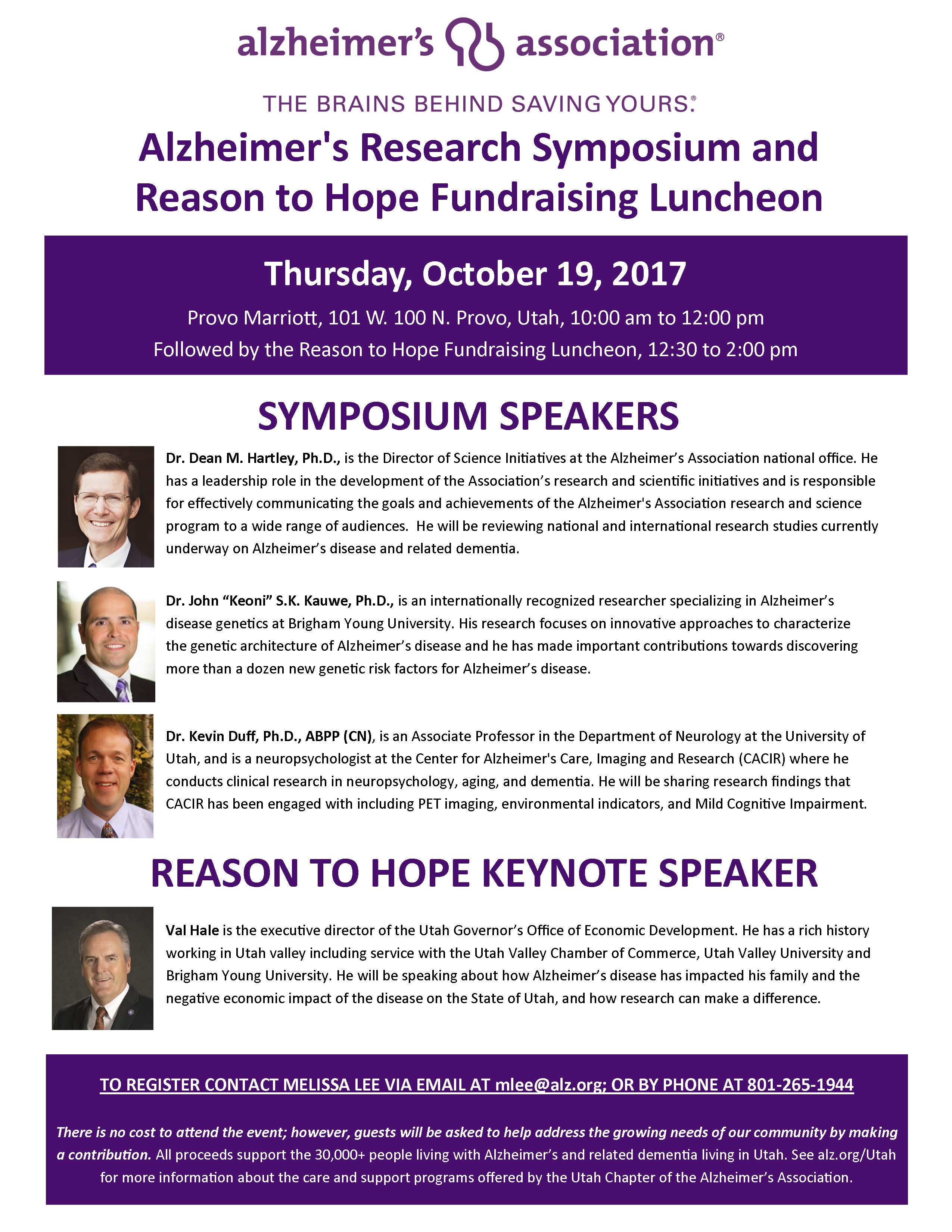 ---
Member Updates/Center on Aging Membership Directory
As a mostly virtual Center, we depend on the accuracy and timeliness of our Web presence. Center members are urged to review and update their membership directory information. Please view your information on the Center's Web site. Send any updates or requests for changes to Heather at heather.podolan@hsc.utah.edu​ or aging.utah.edu.
---
About our Logo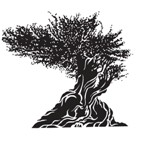 The bristlecone pine tree (Pinus longaeva) - the earth's oldest inhabitant with a life span of almost 5,000 years - is found only in Utah and five other western states. Its extraordinary longevity and ability to adapt and survive in extremely harsh environmental conditions above 10,000 feet embodies the investigative spirit and mission of the Utah Center on Aging.

---
Best,
Mark A. Supiano, MD
Executive Director - Center on Aging