April 2018 Issue/Volume 12, Number 04
A PUBLICATION OF THE UNIV. OF UTAH CENTER ON AGING
Center on Aging 12th Annual Research Retreat 2018
Creative EngAGEment through the Arts
April 5 - April 6, 2018
We wish to thank everyone who participated on April5-6 for making our 12th Annual Research Retreat a success. We enjoyed interacting with 20 Poster presentations, 7 Creative Arts Presentations, 2 Keynote SPeakers, 8 University/Public Presenters and over 165 guests who attended the combined two-day event.

Keynote Presenters (pictured below with Dr. Supiano from left to right) Drs. Louise Aronson and Julene Johnson, both joining us from UCSF.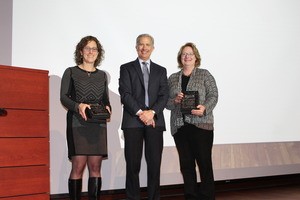 At the Retreat this year we enjoyed performances from the School of Dance "The Middle Way" and the Gleeful Choir.
To view more PHOTOS from the 2018 Research Retreat they are available here to view, share or download:
https://www.dropbox.com/sh/l7etklk6ilbbn7p/AAAPxqz96gxV9uoQmuhO2781a?dl=0

View the 2018 Research Retreat here:
https://medicine.utah.edu/internalmedicine/geriatrics/grand-rounds/
POSTER AWARDS We are pleased to congratulate our trainee poster winners:

Biological Award: Alec McKenzie, PhD Candidate in Physical Therapy

Poster Title: "Muscle and Metabolic Response to 5-days of Bed Rest Followed by 7-days of Recovery in Older Adults"

Authors: Alec McKenzie, Paul Reidy, Zian Mahmassani, Jordan Johnson, Katie Kaput, MD, Matthew ROndina, MD, MS, Yu Kuei Lin, MD, Scott Summers, PhD, Robin Marcus, PhD, Paul LaStayo, PhD, Mark Supiano, MD and Micah Drummond, PhD

Pictured below: Alec McKenzie and Dr. Mark Supiano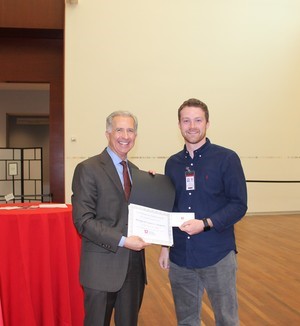 Social Science Award: Anna Shvartsur, Fourth Year Medical Student

Poster Title: "Longitudinal Assessment of Metamemory in Mild Cognitive Impairment and Alzheimer's Disease"

Authors: Anna Shvartsur, Hwi Lee, Fini Chang, Matthew J. Wright, Liana Apostolova and Ellen Woo

Pictured below: Anna Shvartsur and Dr. Mark Supiano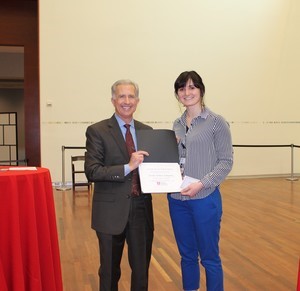 Guest Speaker Louise Aronson, MD, MFA Presented the Gerald Rothstein, MD Endowed Lectureship
The Gerald Rothstein, MD Endowed Lectureship was established to recognize Dr. Rothstein for his long-term involvement in the School of Medicine and the advancement of geriatric medicine. The endowed funds establish permanent funding to support guest researchers addressing critical issues associated with geriatrics.
It was an honor to have guest speaker Louise Aronson, MD, MFA present "Optimizing Medical Care for Older Adults: What Does Steve Jobs Have To Do With It?" The full lecture can be seen online.

Pictured below: Drs. Gerald Rothstein, Louise Aronson and Mark Supiano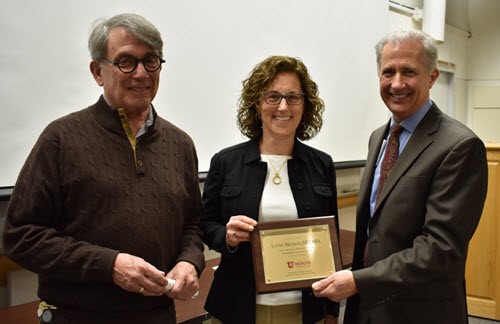 AGS 2018 Annual Scientific Meeting
The upcoming AGS meeting May 2-5 in Orlando has two symposia featuring Dr. Mark Supiano and thirteen posters from the University of Utah. See the attached listing of the U of U presentations.

https://aging.utah.edu/_resources/documents/2018_AGS%20Conference.pdf

Congratulations
Matthew Rondina, MD and Kalani Raphael, MD are both recipients of VA Merit Awards. These awards are for four years through the Department of Veterans Affairs.


Utah Commission on Aging
The Commission presented to the Adult Protective Services investigative team on educating the public on financial fraud and elder abuse and how the Commission can assist in moving public policy to support critical APS investigative capacity.

UCOA also presented to Dr. David Sundwall's class on public health management. Discussed scope of UCOA work and led interactive discussion on managing aging and making personal choices to prepare older for adult years and end of life decisions.

Production has commenced with of our Department of Justice fraud awareness campaign. Interviewed renowned expert on financial fraud and scams, Doug Shadel, PhD, in Seattle. Doug will be a guest on a future podcast. Working with case workers from San Juan County to establish rapport with Navajo Nation ambassadors to include their stories in our fraud project.

Related financial protection project, BankSafe, UCOA has helped enroll ten banks and credit unions to be part of the national training launch in May.

Falls Prevention Alliance team will be represented at the N4A conference in Chicago the end of July. We will present our unique community collaborative to move public policy, expand community outreach and education, and incorporate research and sharing of promising practices. Participants include Sally Aerts – DOH, Kristy Cottrell – Davis Co AAA, Marianne Christensen – SLCo AAA, Rob Ence – UCOA.

The Rap on Aging podcast series #3 and #4 are in final production dealing with legal and family planning on wills, trusts, advanced directives, and POLSTs. Featured guests include elder law attorneys Troy Wilson and Doug Cummings.

UCOA says thanks and goodbye to our intern, Carly Ann Kuhn, from the Department of Family and Consumer Studies. She was helpful in our early launch of our social media assets and contributing to several partner planning meetings.
---
Upcoming Events
3rd Annual End of Life Care Summit

Thursday, April 26th, 2018
Intermountain's Doty Education Center
Murray, Utah
8:00am - 1:15pm
https://healthinsight.org/eol-summit
UPDB Presentation

Kaare Christensen, MD, PhD, DMSc
"Is Mortality Written on the Face? - Or Elsewhere?"
May 29th, 2018
12:00 - 1:30pm
HCI South Auditorium 1st Floor


SAVE THE DATE
16th Annual Rocky Mountain Geriatrics Conference
Aging in Place: Promoting Independence and Planning for the Future of Our Aging Population
September 24-25, 2018
Broomfield, CO

Registration site coming soon!
Gerontological Society of America (GSA) 2018 Annual Scientific Meeting - will be taking place from November 14 - 18th in Boston, Massachusetts. The meeting theme is "The Purposes of Longer Lives".
https://www.geron.org/meetings-events/gsa-2018-annual-scientific-meeting
---
Member Updates/Center on Aging Membership Directory
As a mostly virtual Center, we depend on the accuracy and timeliness of our Web presence. Center members are urged to review and update their membership directory information. Please view your information on the Center's Web site. Send any updates or requests for changes to Heather at heather.podolan@hsc.utah.edu​ or aging.utah.edu.
---
About our Logo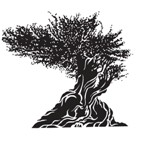 The bristlecone pine tree (Pinus longaeva) - the earth's oldest inhabitant with a life span of almost 5,000 years - is found only in Utah and five other western states. Its extraordinary longevity and ability to adapt and survive in extremely harsh environmental conditions above 10,000 feet embodies the investigative spirit and mission of the Utah Center on Aging.

---
Best,
Mark A. Supiano, MD
Executive Director - Center on Aging