February 2015 Issue | Volume 9, Number 2
A publication of the University of Utah Center on Aging
March 12th Poster Deadline!
Member Awards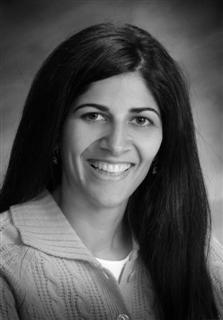 Shaida Talebreza, MD is the recipient of the 2015 American Geriatrics Society (AGS) Outstanding Junior Clinician Educator of the Year Award.
This award is given annually to an AGS junior faculty member who has provided leadership to train students in geriatrics and has contributed significantly to the progress of geriatrics education in health professions schools. Dr. Talebreza received a 5-year HRSA Geriatric Academic Career Award focused on developing geriatric palliative care curricula. With this funding she created and implemented geriatric palliative care curricula that is integrated into the University of Utah School of Medicine training programs. Dr. Talebreza created and serves as lead editor for the AGS Geriatric Evaluation and Management Tools (GEM Tools) resources, an evidence-based teaching resource for the evaluation and management of common geriatric syndromes. Dr. Talebreza works to improve practices with regard to eliciting, documenting, and honoring the life-sustaining treatment preferences of seriously ill and frail older patients.
Congratulations Shaida!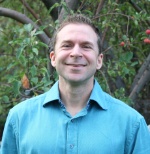 Micah Drummond, PhD, is the recipient of the 2015 American Geriatrics Society (AGS) Outstanding Junior Investigator of the Year Award.
Dr. Drummond is Assistant Professor in the Department of Physical Therapy at the University of Utah and has been an active leader at the University's Center on Aging, where he helped secure grant funding and contributed to nearly 60 peer-reviewed articles on aging, physical function, and muscle metabolism. His achievements are further bolstered by recently receiving a pilot grant to study rehabilitation in older adults following hip fracture and new funding from the National Institute on Aging for a deeper exploration of muscle loss and decreased functioning in hospitalized older patients. The AGS award, and Dr. Drummond's ongoing dedication to aging scholarship, speak to an early and promising career trajectory in support of geriatrics excellence.
Congratulations Micah!
Drs. Talebreza and Drummond will receive their awards at the AGS Annual meeting in May.
Caring Connections Telecast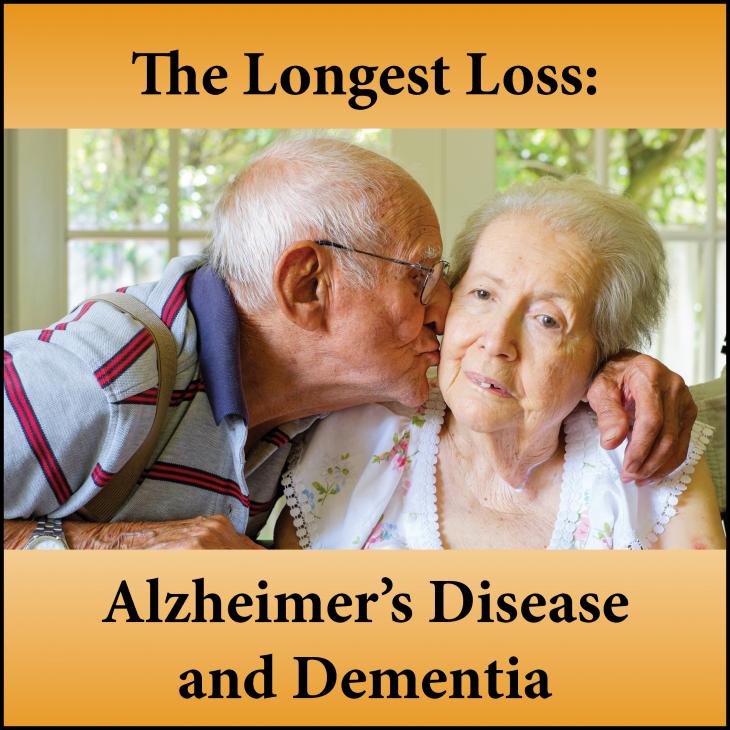 Caring Connections will again be hosting the Annual Hospice Foundation of America: Living with Grief Telecast. This year's presentation will be "The Longest Loss: Alzheimer's Disease and Dementia" the morning of Friday, April 24th at the University of Utah College of Nursing Annette Poulson Cumming Building (10 south 2000 East, Salt Lake City).

Kathie Supiano, PhD, LCSW, Director of Caring Connections: A Hope and Comfort in Grief Program will be joining Peter Rabins, Charles Corr, Nancy Pearce and Kenneth Doka on the National HFA panel. There will be no cost for registration. 3 CEUs are available. Please save the date. For more information call 801-585-9522.
Geriatric Interdisiplinary Program
The Gerontology Interdisciplinary Program celebrates 7 Years and 34 students of success. This program has offered a didactic curriculum for fourth year medical students (MS4) to complement the clinical experiences in their Geriatric rotations since April 2007. Thirty-four medical students have completed the geriatric rotation with the gerontology didactic component. The collaborative effort of both the geriatric and gerontology programs has been presented at several professional conferences such as the Association for Gerontology in Higher Education (AGHE) and the American Geriatrics Association.
Four MS4 geriatric rotation students have completed graduate certificate in GERON this academic year: Tammy Smith, Angie Van Atta, Jerica Johnson and Daniel Gragert.
Three MS4 Certificate earners from 3 years ago - Brett Porter, Alexander Meier and Paula Lueras - are all entering Geriatric Medicine fellowship next year. Brett and Alex are joining the Utah Geriatric Fellowhip Program.
___________________
Terrie Vann-Ward, PhD a student in the University of Utah Hartford Center of Geriatric Nursing Excellence, has successfully defended her dissertation, entitled, Preserving the Core Self: The Challenging and Strategic Processes for People with Parkinsonism.
Congratulations, Terrie!
College of Nursing Artwork
A new mural graces the 2nd floor of the College of Nursing building. It was designed by Phillip Adams and painted by participants of the inaugural 2014 Hartford Change AGEnts conference, which was sponsored by the John A. Hartford Foundation and the Gerontological Society of America. Entitled "Collaboration," the mural depicts those from the fields of geriatric medicine, nursing, and social work who come together every day to improve the health of older Americans.
The University of Utah Hartford Center of Geriatric Nursing Excellence was chosen as the first to exhibit the mural. It will be on display now through the beginning of March.
Ginny Pepper, PhD, RN and Jaquie Eaton, PhD are pictured below with Amy Burman, a Hartford Foundation program officer.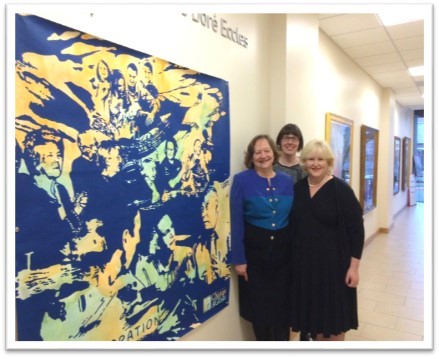 Meetings of Interest
Grand Rounds - Geriatrics Division
Tuesday, March 3 • 8:00 - 9:00 am
"Diagnosing and Managing Peripheral Neuropathies in the Elderly"
Mark B Bromberg, MD PhD
Director General Neurology Division, Department of Neurology
University of Utah School of Medicine
Health Sciences Education Building (HSEB) Room 3515C
Interdisciplinary Seminar Series on Aging
Monday, March 2 • 12:00 – 1:30 pm
"Social Determinants of Health in Older Adults"
Samuel Asante, MSW Doctoral Candidate
University of Utah College of Social Work
Monday, March 23 • 12:00 – 1:30 pm
"Connections: My Body, My Mind, and My Spirit: Reflections on Growing Old in America from an Immigrant Perspective"
Isabel Teresa Molina, MSW, MBA, PhD
Associate Director, University Neighborhood Partners

These seminars are free and open to the public, held on Mondays from 12 PM – 1:30 PM (refreshments served) at the Goodwill Humanitarian building; Okazaki Community meeting room (155 B), beginning Monday, January 12, 2015

DOWNLOAD THE FULL SCHEDULE HERE
NIH Grant Opportunity
The National Institute on Aging invites researchers to submit innovative R01 research grant applications on aging and the family. The objective of this research program is to expand understanding of the role of families and interpersonal relationships in the health and wellbeing of older people. Go To PA-11-128
Member Updates Requested
White you are visiting the MEMBERSHIP DIRECTORY page, please check your own profile details for accuracy. Click the link associated with your name to ensure that it is directing to the proper page with your current CV details.
Send all updates to holly.abel@utah.edu
AGING GRANT OPPORTUNITIES
NOTE: This is not necessarily a comprehensive list. Please Search for additional opportunities at Grants.nih.gov.
---
Center on Aging Membership Directory

As a mostly virtual Center, we depend on the accuracy and timeliness of our Web presence. Center members are urged to review and update their membership directory information. Please view your information on the Center's Web site . Please send any updates or requests for changes to aging@utah.edu.